Build Instruction - For Free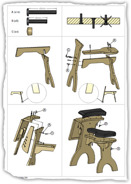 Get your building instruction here for free.
Please, fill in your email address below and we send you a simpel build instruction - for free.


Your are redirected to next webpage, after you have filled in your email adress below. Remember - we only allow carpet of one private copy. No commercial resale.
Animation in 43 seconds on how to build Linnés Plugghäst